Phonics opens up the potential of reading and so much other learning across the curriculum. Children are at an advantage if they are taught phonics efficiently and as early as possible in their learning journey.
At NMPA, children are taught using the Little Wandle Letters and Sounds Revised 2021 programme.
The programme provides a full progression through all commonly occurring GPCs, working from simple to more complex, and taking into account the frequency of their occurrence in the most commonly encountered words.
Please follow the link to see the programme progression for Reception and Year 1: https://www.littlewandlelettersandsounds.org.uk/wp-content/uploads/2021/06/Programme-Overview_Reception-and-Year-1.pdf
It is essential for children still learning to decode to practise and apply their phonic skills without the distraction of words they have not yet learned to decode. Therefore, we have purchased a fully decodable books scheme by Harper Collins Big Cat who have devised a fully decodable book scheme matched to our programme progression.
Follow the link to see the decodable books available in our scheme: https://www.dropbox.com/s/s4gbqceehbg2dor/Phoneme%20Progression%20Chart.pdf?dl=0
We ensure that all of the children in our school have a strong phonetic understanding. We do not aim to just pass the phonics screening test but to achieve competence in all sounds in all year groups so that our children are able to become fluent readers. Once a child grasps phonics, they then develop their fluency through strategies based on Rasinski and guided reading linked to the Little Wandle phonics scheme.
As children become more confident readers, we teach comprehension through the RVI strategy, based on Doug Lemov's Reading Reconsidered work. This strategy ensures the children understand who and what a passage is referring to (R – retrieval), the key vocabulary in it (V – vocabulary), which then enables them to make inferences about it (I – inference). Without the knowledge of 'R' and 'V', a child cannot accurate infer, so we aim to broaden the knowledge children have of different text types and vocabulary.
How to support your child with reading at home
When reading with your child, ask questions to check understanding and discuss the story. Too many questions will spoil the flow – for younger children, one every few sentences can be appropriate; for older children, one every page or so.
The framework we recommend is based on the research of the Education Endowment Foundation and is designed to promote discussion.
It uses PEER to help remember – prompt, evaluate, expand, repeat.
| | | |
| --- | --- | --- |
| PEER | Definition | Example |
| P – Prompt | Ask a question about the book | How was Harry feeling? (see below for more examples) |
| E – Evaluate | Tell the child if they are right, wrong, or nearly there | That's right, he was upset |
| E – Expand | Encourage the child to develop their answer | Why do you think he felt upset? |
| R – Repeat | Summarise the discussion | So Harry felt upset because he was being told off when he hadn't done anything wrong |
The following can support with the first prompt (The P in PEER) question
Prompt Examples

Completion – complete a sentence to check understanding:

o    The dragon is…

o    Harry Potter is afraid of…

Recall – recall facts

o    What was the dragon doing?

o    Can you describe the character?

Open-ended – questions with many possible answers

o    Tell me about the character

o    What might happen next? What else could happen?

o    Tell me about this story

Wh – who, what, where, when, why (these may also be recall)

o    Who is the character angry at?

o    Why isn't the boy scared of the dragon?

o    When does this story take place?

Distancing – connects to child's life experiences

o    Is Harry Potter's school like yours? How is it the same? How is it different?

o    Do you remember when we went to the zoo? Which of these animals did you see?
A range of genres are taught throughout the year and aim to cover all four purposes: entertain, inform, persuade, discuss by the end of year six. The following design will allow for progression across the school, building upon learned skills year-on-year. Please see below the given text types that taught in each year group.
Text types
Year 1
Year 2
Year 3
Year 4
Year 5
Year 6
Entertain

Stories

Description – character and setting

Poetry

Stories

Description – character and setting

Poetry

Stories

Description – character and setting

Poetry

Stories

Description – character and setting

Poetry

Stories

Description – DDA

Poetry

Stories

Description – DDA

Poetry

Inform

Instructions

Letter

Recount

Instructions

Letter

Recount – of events

Recount – diary

Instructions

Letter

Recount

Explanation

Letter

Recount

Explanation

Biography

Newspaper

Report

Recount

Biography

Newspaper

Report

Recount

Newspaper

Essay

Persuade
 
Letter
Advertising poster

Advertising letter

Speech

Advertising letter

Speech/campaign

Advertising letter

Speech/campaign

Discuss
 
 
 
Book review

Balanced argument

Review

Balanced argument
Handwriting – Penpals
The ability to write fluently and legibly gives pupils a means to communicate their thoughts and ideas efficiently.  Handwriting is a skill which must be learnt in order to provide a style which becomes simple to produce and easy to read.
Penpals for Handwriting is a complete handwriting scheme for 3-11 year olds and is fully inline with the national curriculum. The practice books and supporting videos/animation provide specific handwriting focused practice – either introducing or practising letters, joins or key concepts such as size and proportion. They are designed to support independent practice in the classroom, following a whole-class teaching session.
What is SPAG?
SPaG is an abbreviation for spelling, punctuation and grammar.
Why is Spelling, Punctuation and Grammar so important?
Punctuation can change the meaning of a sentence greatly.
We need to use Standard English to communicate effectively. Using incorrect punctuation, grammar and spelling can change the meaning of sentences whether spoken or written.
Children need to use accurate SPAG to progress in life and build careers.
At NMPA, it is our aim to teach accurate grammar and punctuation in context through authentic, inspiring writing opportunities across the curriculum. Click here to view Grammar Progression from Year 1 to Year 6.
Rising Stars Spelling is a teaching sequence that closely follows the national curriculum 2014. It provides practical and exciting ways to teach spelling within the classroom. Click here to see the overview.
Comprehension
Reading comprehension is taught based on evidence-based principles using a structure we call 'RVI' – Retrieval, Vocabulary, Inference. We know that for a child to make sense of a text and to infer information from it they need appropriate background knowledge, and to understand the key information being conveyed. Through close reading, rich and meaningful discussion, and vocabulary exploration, children are taught to unpick high-quality resistant or challenging texts, which benefits them when they encounter challenge when reading for pleasure.
Children also participate in ERIC reading sessions (Explain, Retrieve, Infer and Choice), where they respond to a variety of media such as pictures, poems, films and text. These short, focused sessions engage all learners and teach them to interpret a range of stimuli. Teachers often utilise texts which are seasonal, pastoral, related to the current topic, or current affairs or issues.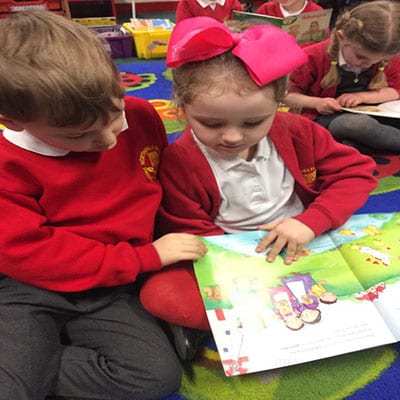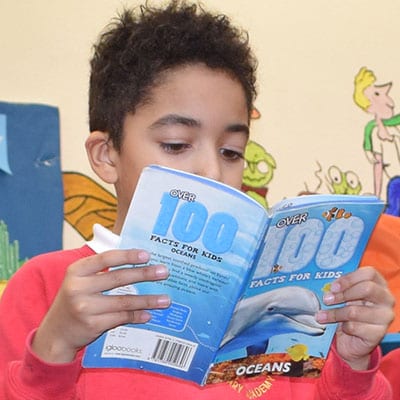 Developing a love of reading
Developing a love of reading is essential to becoming a strong, independent reader and so it is one of our key priorities. We achieve this in a number of ways, which include:
A 'reading canon', consisting of classic and modern titles that have been chosen to represent the best of children's literature
Termly library trips
Reading corners, which act as 'mini libraries'
Book webs linked to thematic topics so children have a range of books to choose from based on current interests
Visiting authors and poets
Mystery readers
Dedicated reading for pleasure sessions
Reading is given a prominent place in the timetable, with all children reading, or being read to, every single day. We give it this prominence because it is hugely important to us.
Please click here for the slides and handout from our Reading Inspire workshop where we explored the PEER model
Parents
To become fluent independent readers, children need practise. We ask all parents to read with their child every night. In EYFS and Key Stage 1 children are given a decodable reading book so that they can put their phonic knowledge into practise. We also encourage parents to read other stories and poems with or to their child. Older children still need encouragement, so we ask all parents to continue to take an interest in their child's book and author choices as well as continue to sign their reading diary.
Writing
At Northfield Manor we value the importance of writing as a tool for communication and reflection. Using a structure based around the work of Judith Hochman (The Writing Revolution), writing is taught through reading, sharing and dissecting the best of what was has been written and said. An exciting stimulus and real purpose engages children, who are then exposed to a plethora of high-quality models, where they are taught how the author consciously achieves the text's purpose and engages their audience through word, sentence and text level techniques. Children learn to plan, draft, revise and edit enabling them to have deep, reflective conversations about the content of their work, and assess how effectively it achieves the intended impact. All of this is underpinned by an understanding of purpose and audience, opportunities for speaking and listening, and grammar taught in context. What results from this is purposeful writing that pupils can be proud of.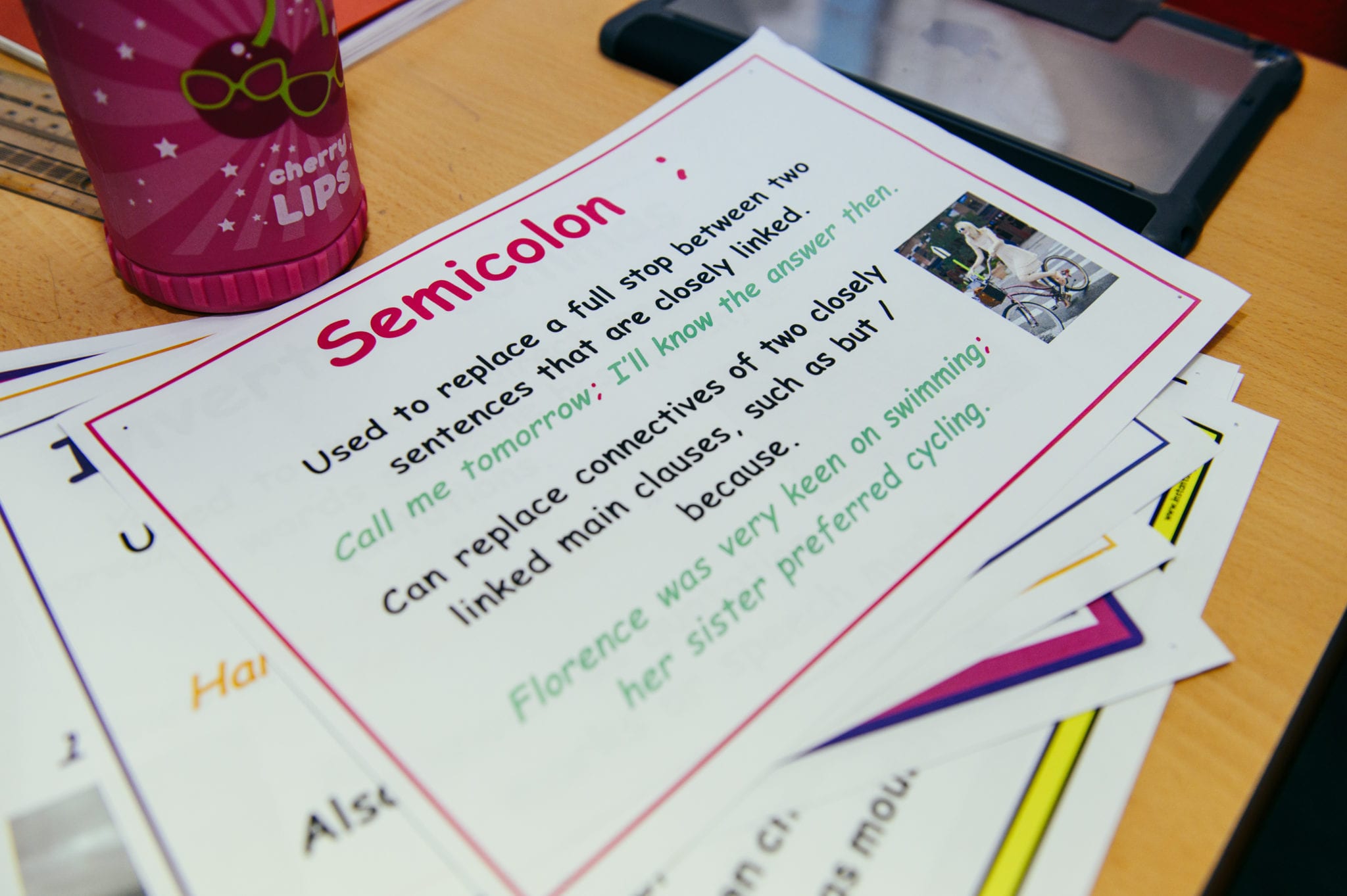 Handwriting
We teach handwriting using the Penpals handwriting scheme. This is designed to ensure progression across the school, beginning in Reception with simple mark making before advancing to basic letter formation, and moving on to fluent cursive handwriting in key stage two. The principles of successful handwriting are taught explicitly – how to hold a pencil, how to sit, how to warm up, joins, etc – and used across the curriculum.