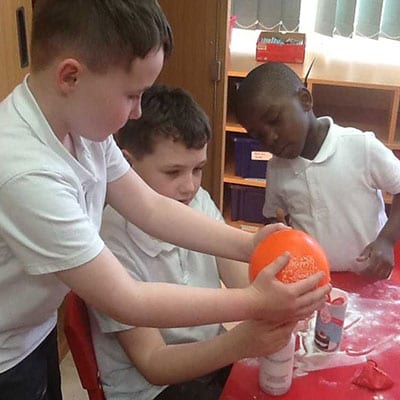 At Northfield Manor Primary Academy, we encourage children to be inquisitive throughout their time at school and beyond.
The science curriculum fosters a healthy curiosity in children about our universe and promotes respect for the living and non-living. We believe science encompasses the acquisition of knowledge, concepts, skills and positive attitudes. Throughout the programmes of study, the children will acquire and develop the key knowledge that has been identified within each unit and across each year group, as well as the application of scientific skills.
We ensure that the disciplinary Working Scientifically skills are built-on and developed throughout children's time at the school so that they can apply their knowledge of science when using equipment, conducting experiments, building arguments and explaining concepts confidently and continue to ask questions and be curious about their surroundings.
We use a scheme called Developing Experts which allows all teachers to have access to resources which empower them to teach each scientific topic alongside online advice from experts from universities and industry. Each session includes an expert video, punctuated with opportunities for discussion followed by a practical experiment. The holistic approach taken by Developing Experts results in a fun, engaging, high-quality science education, that provides children with the foundations and knowledge for understanding the world.
Our engagement with the local environment ensures that children learn through varied and first hand experiences of the world around them. Frequent, continuous and progressive learning outside the classroom is embedded throughout the science curriculum.
Children learn that science has changed our lives and that it is vital to the world's future prosperity. Children learn the possibilities for careers in science, as a result of our expert films and curriculum links to industry, ensuring that children have access to positive role models within the field of science from a range of science disciplines and Stem-related industries. From this exposure to a range of different scientists from various backgrounds, all children feel they are scientists and capable of achieving.
We aim to ensure every child enjoys science which results in motivated learners with sound scientific understanding.