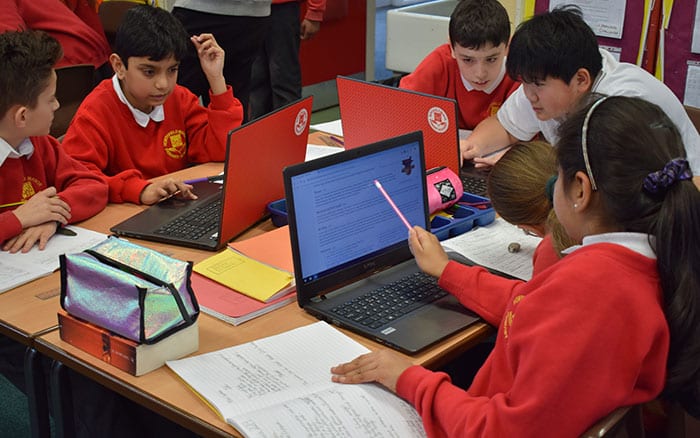 We aim to ensure that our children have access to a curriculum that allows them to be technologically fluent and provides them with the tools they need to be successful in the modern world.
Computing is taught through our Challenge Curriculum where relevant, and explicitly in computer science units, starting with basic skills including word processing and media use, and progressing to more sophisticated skills such as coding, design and website creation. E-safety underpins all of this, so our children can safely use technology at school and at home.
The current resources available include class sets of iPads and laptops which are used regularly to support learning in computing and thematic lessons. All year groups also have access to a digital camera. Our VAT Digital Strategy has seen our year 6 classes transformed into Apple Ready Classrooms (ARCs) with each child having access to an iPad; this strategy, developed in collaboration with Jigsaw, will transform the way we teach computing and contribute to the development of other areas of the curriculum.
Online Safety
Through our computing curriculum we aim to ensure that pupils become digitally literate so that they can use technology safely and respectfully. This includes keeping personal information private and knowing where to go for help and support when they have concerns about inappropriate content or contact through the internet.
During the autumn term we focus very explicitly on Online Safety, and this covers how to keep safe when using the internet and what a pupil must do if they see material they know is inappropriate or that they are uncomfortable with. In addition, children receive regular updates and reminders throughout the year and wealso take part in the national Safer Internet Day each February.
All pupils must sign our On-line Code of Conduct before using the internet in school.
Please see our section on On-line safety under our Parents section for more information.